Breakfast Menu
Breakfast is served between 8am and 9am. However, if you require an early start we can usually arrange a light breakfast of juice, fresh fruit, yoghurt and cereals.
The dining room is relaxed and informal and wherever possible we will re-arrange tables to keep parties of different sizes together.
You have a choice of Continental or full English breakfast.
Continental
Croissant/pastries served with butter and jam.
Salad of fresh summer fruits and yoghurt.
Full English
Eggs (Fried, scrambled or poached)
Locally sourced smoked bacon.
Sausages, Mushrooms
Beans, fried potato and tomato.
All breakfasts are served with toast, fruit juice and tea or filter coffee. If you prefer we can usually offer a range of fruit teas and de-caffeinated coffee.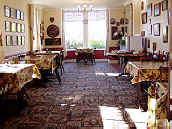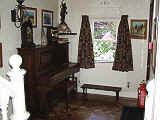 ---